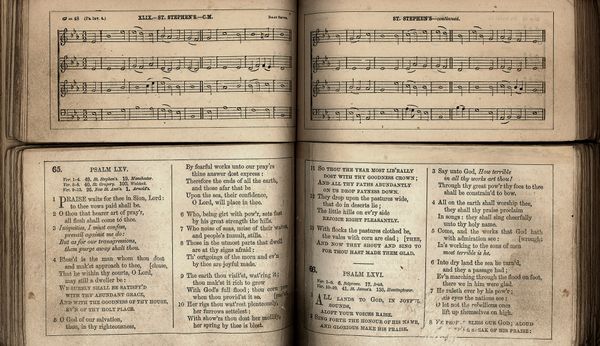 Colossians 3:16 (ESV) Let the word of Christ dwell in you richly, teaching and admonishing one another in all wisdom, singing psalms and hymns and spiritual songs, with thankfulness in your hearts to God. 
This is an incredibly familiar passage. Equally familiar are the debates about the use of traditional versus contemporary music in worship. A little less familiar are the debates about singing psalms only. On the face of it, the verse would seem to answer all the debates. Shouldn't we just use all three categories? Yes, but the conversations continue. 
So Yesterday: Hymns 
Some disparage using hymns in worship for various reasons. One argument is that the three categories listed in Colossians are simply categories of psalms. After all, several psalm inscriptions describe it as "a song." Further, they will often point out mistaken (or at least squishy) theology in some hymns and songs, and rightly so. 
Other's will disparage hymns because they are boring, out dated, too hard to sing, or connected with historical events or movements we don't appreciate anymore. You don't have to look too hard to find someone who will beat up on hymns. 
So Today: Songs 
Yet, you can easily find folks who throw most praise and worship songs under the bus (both modern worship songs and older gospel songs). Many will argue that they are vapid, simplistic, repetitive, melodically boring, and lyrically one-dimensional. Plus, many have pointed out that modern praise music pretty much repels men. Those in this camp can easily find low hanging fruit to pick on. I certainly have. 
Add to this the painfully obvious marketing machine…. Now, marketing itself is fine, but we all cringe a bit knowing that major dollars are spent to make the next big worship song common place on radio and in churches, perfectly timed for Easter to boot. Should songwriters and record executives be the driving force behind the church's song texts? Good question. In any case it seems there is plenty to complain about when it comes to the modern worship song phenomenon. 
So Forever: Psalms 
Then there is the unused Psalter. Some will quickly point out that many praise songs are psalms. But I'm speaking of singing through a large portion of a psalm, or even a whole psalm. Avoiding this is understandable. The texts are often awkward and at times the subject matter can feel out of place and uncomfortable. Singing the Psalms confronts our milk-toast theology. It forces us to grapple with texts that paint God in ways that would never pass the bumper sticker committee. 
Plus, while there are some great tunes, fewer good tunes have been offered for psalms than hymns. Thankfully that's changing, but if you spend a little time around psalms-only singers you will find that they have their favorites (i.e. Psalm 98), as well as a bunch of tunes they avoid because of a lack of beauty and healthy dose of clunkiness. Plus, though I assume it is not their intent, some traditions of psalm-singing smack of legalism and pride. So, too often we abuse the Psalter simply by neglect. 
One Big Happy Family 
Yet… so many hymns are loved, so many have wonderful melodies, so many have been driven deep into our hearts and are a common touch point for millions. Plus, hundreds of hymns are very accessible and singable (if you choose the right key). I wonder how many hymns of the faith have been sung by family members around the deathbed of a loved one. Hymns are a gift to the body of Christ. To skip over hymns is to skip over hundreds of years of devotional insight from the saints who have gone before us. To dump hymnody is to disconnect yourself from the church-historical. As to the difficultly of some of the lyrics, there is value in meditating and taking some time to understand what you will sing. 
Yet… there are songs that have been written and are being written that are musically sound and very accessible, while at the same time lyrically thoughtful and theologically rich. Some songs are simple without being simplistic; some are not overly repetitive; and some are repetitive in a good way. Plus, a well written song can capture the heart's cry in a way an ancient text can't. To skip over spiritual songs is to disconnect yourself from the church present. There is value in immediately understanding the text in a way that speaks in the way we speak. 
Yet… singing the Psalms, like hymns and songs, is commanded. They are for our edification. Not sure you like them? Oh well. Sing them anyway. You will find that some are glorious, some are hard, and some are downright difficult. So be it. These were the songs of Miriam, Moses, and David. They were also the songs of Jesus. Not only did he sing them, they are his. The next time you are singing a Psalm and it dawns on you that it's strange or awkward, ask yourself how it points to or is fulfilled in Christ. Even the Psalms that are not obviously Christological find their fulfillment in Christ. They should not be ignored. To skip over the psalms is to disconnect yourself from the church-eternal. There is value in struggling through the Psalter. 
When our singing reflects the universal body of Christ (past, present and future) it reflects the fact that we are one big happy family bound together by truths, texts, and even tunes. 
Ratios 
I've been asked, "what percentage of psalms, hymns, and songs should we sing?" I dunno. 1/3, 1/3 and 1/3? I would kind of like 51% psalms, 30% Hymns, and 19% songs. That may be somewhat arbitrary, and yet my reason is that the Psalms are lasting, hymns less so, and songs less than hymns (contemporary, by its very definition, implies a relatively quick passing body of songs). But that ratio is hard to employ in real life, especially if your church has not been in the habit of singing the psalms. 
Therefore, I simply try to use all three categories over several weeks. If there is a Sunday that does not use a song, that's ok…..or a Sunday that does not have a hymn, fine. No Psalm? Lightening will not strike you down. However, because more often than not we skip Psalms, I tend to emphasize reclaiming the practice. At my last church we were up to 30-40% psalms, in part because the practice was already alive when I arrived. I simply had to build on it. Even so, it takes time to teach, a will to press ahead, and a willingness to get questioned about it. Once you begin, you will find that it's musically and theologically rewarding. The fruit is eternal, for you are singing the eternal and living word of God. 
So, here's to psalms, hymns, and songs. Let's sing 'em.